Bellefonte brings on athletic trainer as girls' basketball coach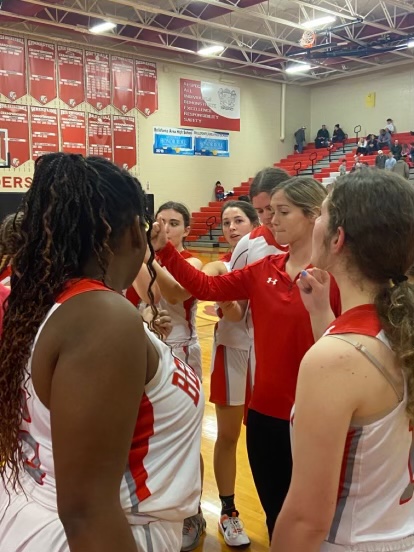 Bellefonte High School currently has two full time athletic trainers, and one of them has now taken on coaching to go along with her trainer duties. Mrs. Kelsey Everhart, athletic trainer here at BAHS, recently took on the job of Bellefonte's girls' basketball junior varsity coach. 
"I began coaching about three weeks ago, right before Christmas break. The school was struggling to find a JV coach after ours left early on in the season. I saw it as a great opportunity to help change our girls basketball program and help the girls enjoy playing again," Kelsey said.
Before taking on the coaching role, Kelsey had to check with the school's athletic director, Ms. Deb Moore,  to make sure that she would be able to take on the job of being the girl's JV coach along with her duties as an athletic trainer.
"Everyone agreed it was okay to do as long as my duties as the athletic trainer weren't going to change, so here we are and I am enjoying it very much," Kelsey said.
Kelsey grew up in the Erie area and throughout school was a three sport athlete, playing softball and volleyball, along with basketball. She said that she does not remember quite how many points she scored while in high school, but that she was a shooting guard and definitely scored a lot of points. Along with basketball she loved to play softball in the spring, but is unsure how she would be able to coach her second-favorite sport.
"I would love to help coach other sports at Bellefonte , however, I think the winter season is the only time that I could make it possible while still being the athletic trainer," Kelsey said. 
Having a second full-time athletic trainer at the school has made it much easier for Everhart to transition into being a trainer-coach this winter season, with little to no issues.
"My schedule is definitely a lot busier now that I have taken on the coaching job. Working with two athletic trainers is what makes this job possible for me, but in order for Demetri to not have to work any more late nights, I in turn have to cover a lot more nights," she said.
Kelsey travels with the varsity and junior varsity teams to away games and acts as the game trainer for home games, meaning that if any players for either team gets hurt during a home game she will help them take care of the unjury.
"When I'm not coaching, I am taking care of our athletes in the training room. So far the schedule has worked out well for the two of us." 
By already having a relationship with many of the girls on the team, coaching has been much more enjoyable for Kelsey. Her goal is to have a different type of influence on the girls, to help them succeed both on the court and off the court in life. Finally she has one last message for the students at BAHS.
"I challenge the students of Bellefonte to come see the girls play now and see how much hard work they have been putting in to compete with many more schools. I assure you, you will see a whole new team play," Kelsey said.