Netflix thriller makes a comeback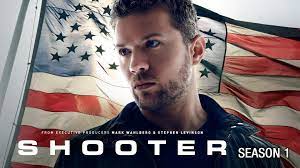 Shooter is a TV show with many plots and twists. It is a show you have to watch and stay focused on, or you may get lost. It is aired on Netflix for all to watch, and is rated TV-14. 
The all-time hit of a show was first aired on July 26, 2016. It was developed by John Hlavin and directed by Antoine Fuqua. The star of the show, known as Bob Lee Swagger, was played by Ryan Phillippe. The show features 3 intense seasons with each season containing 10 episodes.  
The show starts out with Bob Lee and one of his friends on a mission overseas. He then gets sniped from a secret person who is a master at hiding his identity. You later learn in the show who he is and it is shocking. In the first episode, Bob Lee gets framed for the shooting and killing of the Ukrainian President, which was a shot meant for the President of the United States. The more you watch, the more you learn why this was done. The show has many great ways to keep the viewer entertained and focused on the show. 
In the second season, Bob Lee and his Marine brothers travel overseas to Germany to receive military awards for their braveness. They then find out there are people after them, as a group of nobodies dressed as police officers sabotaged the whole thing, killing a few of his Marine friends. This is the season you learn about atlas. 
"The show is constant action and there is always something going on,"  junior Grayson Alterio said. 
There is never breaks with this show, and if you don't pay attention for a split second you will end up missing something. The show is constant and provides with many complex and intense situations that leave you on the edge of your seat. Out of 5 stars personally I give it a 4.8 out of 5. 
The show has been discontinued leaving the show with a very dramatic and shocking ending. I recommend that all kids ages 14 and above watch this show due to a good amount of profanity used and killing.