Students bring Chinese culture to BHS
From February 1-3, the Bellefonte Chinese classes held a night market to showcase the Chinese culture in the Bellefonte High School. They did this by creating a variety of games, activities, snacks, and a prize table.
The Chinese night market is a street market operated from 3:00 p.m. to midnight. The Chinese night market started in Tang Dynasty 836 A.D. It has a variety of vendors on the street and allows people to shop, eat, and play games in the market. It's very popular in Asian culture. The night market is very nostalgic to Chinese teacher Chen Lǎoshī. 
"It brings up my childhood memories of when I was in Taiwan celebrating the New Year. My parents would always take me to the night market on New Year's Eve. I got the chance to play games and enjoyed the atmosphere at night," Chen Lǎoshī said.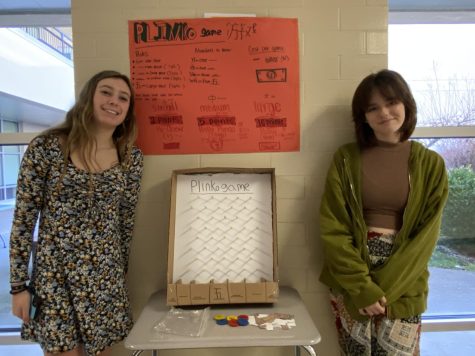 The Chinese 2 students got the opportunity to share the culture with the students of Bellefonte. One student who was particularly excited about getting to do it was freshman Makenna Williams. 
"My favorite part was teaching people how to play the games, and teaching the Chinese terms," Makenna said. 
Most students had a good idea of what to create. However, some students ran into a few hiccups along the way. Freshmen Charles (Bennie) Greib and his partner Emma Gatsby experienced this first hand. The pair had originally planned to do a goldfish scoop game where everyone would be a winner. However, they were unable to implement water into the design since it would be made of cardboard. They were able to come up with another idea though. 
"Over the span of a week, she and I worked to accomplish a basic style 'balloon pop' game. Using a cardboard box and some tape, we were able to overcome the challenges that an unbalanced box brought to us," Bennie said. 
Designing the activities wasn't the only difficulty that had to be worked through. Freshmen Breanna Dickey and her partner Natalie Jolie experienced this, coming out with a learning experience in the end. 
"I also learned some leadership through this project, leading a game and being able to explain directions to some people is really hard. Overall, I would love to do this again and even improve on our project and keep spreading the culture," Breanna said. 
All of the students who participated in the night market would like to do it again. The students liked the effects that resulted from it. 
"I would like to do it again, it was fun to do because it was interactive, and we got to relate American games to Chinese culture," Makenna said. 
The night market not only shared Chinese culture with the Bellefonte students but also brought them closer to each other. 
"I enjoyed the night market not just because it was a break from lessons, but because I was able to communicate and bond with my fellow Chinese 2 class. This project really showed the creative side of all of us," Bennie said. "Everyone who came, and everyone who helped prepare, seemed to have a blast and that made me happy as well."