BAHS Variety Show displays student and staff talent
On February 28, Bellefonte High's Raider Revolution club, our positive behavior program, held its annual Variety Show. This event, which serves as a fundraiser for the club, began in 2004, and was able to return after a two-year hiatus.
Reading Specialist Mrs. Sarah Rodgers is an advisor for the Raider Revolution club and has been running the show, along with math specialist Mrs. Jessica Baughman, since 2017. She describes the purpose for the fundraiser and her feelings about it returning to the stage. 
"The Variety Show is a way for students and staffulty to showcase their talents…We are thrilled to be back for next year and to celebrate the 20th anniversary of the show," Mrs. Rodgers said.
Bringing the event back this year had some challenges in organizing and gaining participation. 
"One of the most important steps is securing talent for the show through auditions. This year was a bit of a rebuilding year since only the Class of 2023 had experienced the Variety Show," she said.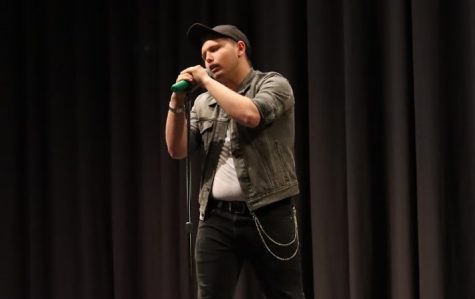 In addition, both the planners and performers had to make some quick adjustments when there was an early dismissal on the day of the dress rehearsal. 
"As an extra hurdle, we had to quickly pivot with our dress rehearsal which was derailed by an early dismissal call. Thankfully, our performers and helpers stepped up without hesitation," Mrs. Rodgers said. 
Overall, she believes that the show has had a comeback and is hopeful for its development in the future. 
"We are hopeful that the success of this year's show will carry over into next year…Considering that this is a one night show, we were very happy with the amount of money that we raised..the nearly $600 that we raised will definitely help our Raider Revolution program to run smoothly," she said. 
Sophomore Ava McNeal is a member of Raider Revolution who took on the role of host and announcer for the Variety Show. Her favorite aspect of the event was the support that was shown for the performers. 
"My favorite part of the show was that so many people came together to help cheer on all the acts and watch everyone," she said. 
Senior Jacob Skrzycki, who is a member of Raider Revolution, sang "Mr. Brightside" by the Killers in the show. He describes his decision to perform. 
"I was inspired to sing because of my love for the band and because I wanted to express my talent in my final year of high school," he said. 
He says that he put in a lot of preparation for the show. 
"I prepared by memorizing lines and practicing the vocals for hours on end," he said. 
Not only students, but also teachers and other staff, had the opportunity to perform. Mrs. Laura Gardner, custodial director at BAHS, presented her rendition of "Harper Valley PTA" by Jeannie C. Riley. She says that her inspiration for this performance comes from memories of her childhood. 
  "My inspiration is that I used to sing with my mom all of the time growing up. She would put a stack of records (classic country) on the stereo and they would play for hours," she said.  
Mrs. Gardner noted her appreciation of the supportive atmosphere at the show. 
"I loved everything about the show. Everyone was so nice and very helpful and kind," she said. 
She specifically enjoyed Mrs. Jennifer Walter's sign language performance of "Flowers" by Miley Cyrus. 
"I especially liked the act that was performed using sign language. It gave me goosebumps, in a good way," she said. 
Mrs. Walter's performance showcased a different take on the musical acts that many performed. 
"I have always had fun doing songs in sign language and thought this was a good opportunity to do another one," she said. 
It is clear that, from students to staff alike, Bellefonte High has a variety of talent. 
The Variety Show is an opportunity to display this, which will remain successful for years to come, now that it has returned to the stage.