thank u, next comes Ariana Grande's new hit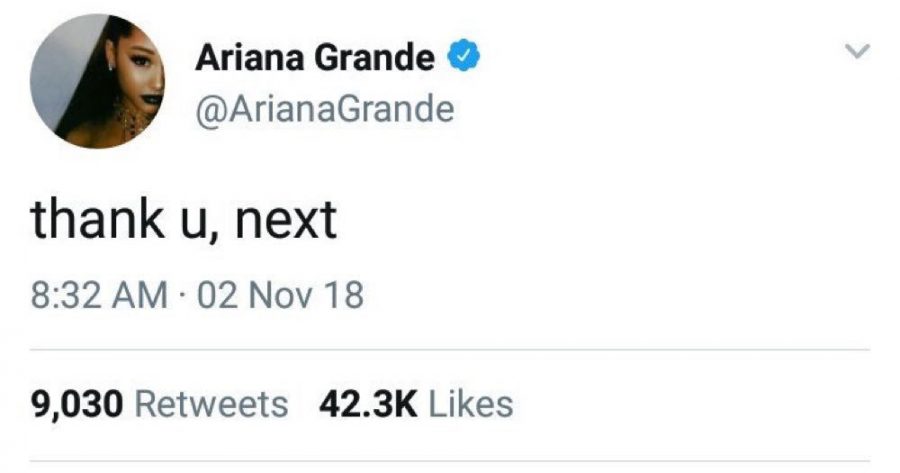 By TYLER MUSE
Minutes before former fiance was to take stage on November 3's airing of "Saturday Night Live," Ariana Grande released a new single, "thank u, next," addressing her split with Pete Davidson.
Ariana tweeted that morning, "thank u, next," which sent fans into a frenzy. She spent all morning answering fans' tweets by dropping subtle hints about the song and upcoming album, and tweeting what appeared to be lyrics; which were. No where did Ariana announce the song would be released later that night, so it was a major surprise.
"thank u, next" starts with Ariana addressing her past relationships, including Pete Davidson and Mac Miller.
"Thought I'd end up with Sean, but he wasn't a match/ Wrote some songs about Ricky, now I listen and laugh/ Even almost got married, and for Pete, I'm so thankful/ Wish I could say 'Thank You' to Malcom, 'cause he was an angel."
Ariana first talks about her relationship with rapper Big Sean, which was rumored to have ended because of lyrics in his one song discussing Ariana. She then talks about her relationship with Ricky Alvarez, whom everyone knows from Ariana's donut incident. Ariana then moves on to former fiance Pete Davidson, which was a very public relationship from start to finish. They started dating in May, then got engaged in June. She titled a song after him on her most recent album, Sweetener. Their engagement was announced over in October.
Ariana then sings about Mac Miller, whom she dated for two years. Mac unfortunately died on September 7 due to an overdose. Ariana tweeted a tribute to Mac, stating she "adored" him and "always will." Mac was her "dearest friend" and she "doesn't know what to do."
The pre-chorus talks about what Ariana has learned from these relationships.
"One taught me love/ One taught me patience/ and one taught me pain."
"I've loved and I've lost/ But that's not what I see."
Each one of her relationships have helped her grow as a person and she doesn't see them as a negativity in her life.
The chorus, "thank you, next/ I'm so f****n' grateful for my ex," explains how Ariana is thankful for all the relationships and how each one affected her differently.
The second verse moves onto talk about how she is right now.
"Plus, I met someone else/ We havin' better discussions/ I know they say I move on too fast/ But this one gon' last/ 'Cause her name is Ari/ And I'm so good with that."
Ariana is comfortable with being with just herself at this point in time. She has a lot of good going for her, with all the positivity from Sweetener and being in a good mental state. She has been in back to back relationships since 2012, and she wants to just focus on her and her only.
"Thank u, next" has received a lot of positivity and a lot of talk, with Business Insider Australia calling it a "diss track" and Pedestrian.tv calling it a "banger." "thank u, next" is already climbing the charts, being number four on the iTunes charts.
According to Ariana's tweets, a new album is soon to come and The Sweetener Tour will take place next year.