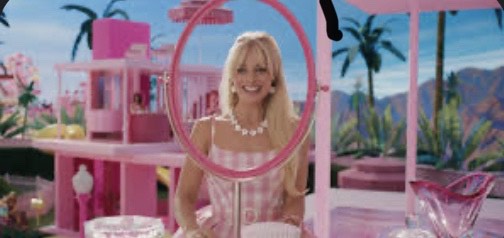 I, like a lot of people, expected the Barbie movie to be a fun, light hearted movie. In some ways this was true, but it was also more than that. It was a movie with deeper meaning. I personally think that the Barbie movie is a movie everyone should watch because there is something everyone can relate to or learn from it. Here were my biggest takeaways.
My first takeaway is, everyone has a purpose. "Humans only have one ending. Ideas live forever."- Ruth Handler. In the movie, Ruth Handler, the creator of Barbie, explains to Stereotypical Barbie what it means to be a human. Even though Barbie understands that she is an idea, thus immortal, she decides that she doesn't want to be everyone else's idea of a woman, but a woman herself. Stereotypical Barbie was the only Barbie with no purpose, until she became human. This shows that everyone has a purpose.
 My second takeaway is, being human is hard. "I cry too. It's actually kind of amazing"- Barbie. In the movie all the Barbies live in Barbie Land where everything is perfect, and Barbies run the world (opposite of the patriarchy). Stereotypical Barbie begins getting "human-like" characteristics. Her shower is cold, her feet stand flat, she gets cellulite, ect. Weird Barbie tells Stereotypical Barbie she opened a portal to the "real world". Stereotypical Barbie has to go and find who's playing with her so she can go back to who she was before. Barbie goes to the real world and realizes how hard it is being human. This showed that being human is hard and that no one is perfect, not even Barbie. 
My third takeaway is, the world is better with both men and women in power. "I'm a man with no power, does that make me a woman?"- Allen. In the real world, men have most of the power. However, in Barbie Land women held all the power. That is until Ken takes over after visiting the real world and finds out about the patriarchy. Then when Ken and Barbie get back to Barbie land, he implements the patriarchy turning Barbie Land into "Ken Land". That's when all the Barbies and Kens realize that we need a mix of men and women in power. Not all men and not all women either. We need equality. 
My fourth and final takeaway is, you can be anything. "Barbie is a doctor and a lawyer, and so much more than that"- Barbie. Barbie has made dolls in all different shapes, sizes, and colors. Not to mention the variety of career dolls they have made over the years. In Barbie Land, all these dolls exist so Barbies can be anything. I personally think that since a young age, Barbie always taught me that I could be anything. 
In a world where men think they have more power then women maybe this is just what the world needed. A reminder that we are all equal.