Girls can wrestle too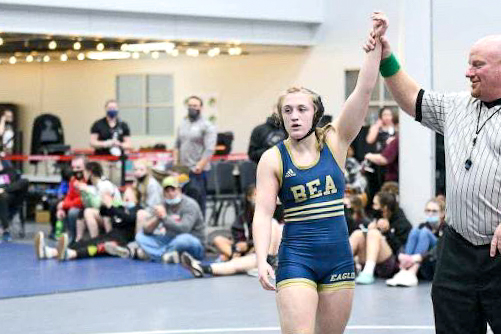 I have been watching wrestling for 16 years now: my entire life. My older brother Zack Witmer, who is now a freshman on Columbia University's wrestling team, has been wrestling his whole life. I personally hated wrestling for the majority of my life, but then, like many other girls, I fell in love with the sport of wrestling – some may say to the point of obsession. Being a wrestling sister gave me the opportunity to travel, meet new people, and make friends that have become family, literally. I wouldn't trade this sport or the family, friends, and experiences it has given me for anything.  
When I was growing up, I almost never saw a girl wrestle. Now, there are over 220 high school girl wrestlers in Pennsylvania alone, according to wrestlelikeagirl.org. I remember the day I saw my first woman vs. woman wrestling match. It was the 2019 Final X (world team trials), in Rec Hall. My eyes lit up as Adaline Gray walked out to the center of the mat. Everyone says "Girls can do anything," but up until that moment, I never realized how truly important it was to have a role model like me in wrestling. 
Ever since that day in 2019, I have been a women's wrestling fan. It was also at that moment I realized, it's not fair for women in the sport of wrestling. I could have told you where every one of the men at that very same competition went to college and their placement at NCAA's (Nationals). However, I didn't even know that women could wrestle until that day.  It took me watching wrestling for 14 years to realize that women can actually wrestle after high school and be good at it. 
Media companies consistently choose to promote men wrestlers over women wrestlers. Emma Randell has been involved in wrestling for over 20 years and originally found out about wrestling from her brother who also wrestled growing up. As a Lock Haven wrestling graduate, assistant coach of the U.S. women's Olympic team in 2016, and current head women's wrestling coach at the NYC RTC, Emma feels we need to start the change at the top wrestling organization – USA Wrestling.
 "Even our national governing body (USA Wrestling) holds a contract with a media company for exclusive content of Team USA but doesn't stipulate that men and women should be equally represented. If the group who organizes our Olympic team doesn't take a stand that equal coverage is essential, why would a media company?" Emma said.  
"I wish there was a greater amount of opportunities for women in our sport. It's hard to find an all-women's wrestling club at the youth and development age groups. Although most clubs won't say their club is male-only, they also don't work to remove barriers for women or introduce any female role models to women in their club."
Ava Bayless goes to Wyoming Seminary Prep School, has been wrestling for 13 years, and got into wrestling from following in her three older brothers' footsteps who wrestle. Currently, number four in the country, Ava Bayless, along with Emma, thinks that in general, the media is getting better at representing women's and men's wrestling equally, but that there is still a long way to go. 
There is also a lack of opportunities for girls compared to boys in wrestling. Currently ranked number one in the country, Grace Stem also feels as though there is a definite gap of opportunities for women compared to men in wrestling, however, the growth over just the last couple of years is tremendous. The impact of this growth however, will forever change the sport of women's wrestling.
Grace goes to Bald Eagle High School, has been wrestling for five years, and learned about wrestling from growing up going to Penn State wrestling matches with her family who loves the sport. 
"I think women's wrestling is good for wrestling as a whole. It urges new athletes to come out and try it, and more girls are being provided with the opportunity to be involved in this amazing sport," Grace said. 
Ava believes that the growth of women's wrestling will not only affect women's wresting but the sport of wrestling as a whole.
"As women's wrestling is growing, it will impact the entire sport immensely. As we've seen over 2021, women's wrestling is making an impact on the world stage and giving coverage to the sport as a whole," Ava said. 
Wrestling can change a girl's life. 
"In my opinion, wrestling is the best sport out there. It's fun, builds character, and can teach you so many things not just on the mat but also in life. But for so many years people have thought of wrestling as a "men's sport". However, wrestling isn't just for boys, it's for everyone, and I think it's so important to show everyone that girls can do it too," Grace said. 
Each of these women has advice for younger girls who are interested in wrestling. Ava's advice is to just have fun and work hard and to reach out to other girls in your area and their families to build a support system. Grace gave the advice to not give up even though it's not going to be easy. Emma's advice is to, "Stay the course. You belong here. This sport is for you."
Women's wrestling has changed a lot since these women joined the sport. When first joining wrestling people told Grace to quit. When Ava started wrestling she was too shy to even admit that she wrestled for fear of judgment. For Emma, men would refuse to wrestle her, opponents tried to hurt her, and parents would make inappropriate and snide remarks about her. However, now people are generally respectful, and they are all proud to be wrestlers.
"Many girls are afraid to join wrestling because it's a primarily male-dominated sport," Emma said. "Sometimes being the only woman in the room can be exhausting. You try to fit in and do your best, but you can find yourself wondering if you belong here. At the same time, because there aren't many women, women become a family of support for one another." 
Ava feels that, although she has been met with struggles in the past, she has learned important lifelong lessons from them, such as how to focus on herself and her goals. 
The biggest thing that can be done to make it fairer for girls in wrestling is separating the boys and girls. Making separate girls wrestling teams, promoting them in the media, having separate divisions in competitions, will make them feel as though they matter because they do.
For Grace, wrestling has become her life.  
"To me, wrestling isn't just a sport. It's something I've decided to devote my entire life to, and I can't imagine doing anything else. It's taught me so many life lessons like discipline, teamwork, integrity, sportsmanship. I truly feel like it's made me a better person overall," she said. 
For Emma wrestling has even become part of her occupation. 
"Wrestling has provided for me. I fell in love with the sport as an athlete. It provided me with an education, the ability to travel the world, make new friends, and a career. It's led me to my vocation of coaching."
For Emma, helping people fall in love with the sport has been the most rewarding part of being a coach. 
 "It's rewarding to see a person find a new passion. It's more rewarding than any of my successes as an athlete," she said. 
What each of these athletes wants others to realize is that girls can do anything the boys can do, girls do belong on the mat, girls are tough enough to wrestle, girls wrestling is to anyone of any size, and that girls wrestling is just wrestling.
If any girls are interested in joining wrestling reach out to coach Maney at [email protected].